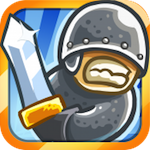 The reveal trailer for Kingdom Rush: Frontiers the other day got us thinking about how awesome the original Kingdom Rush (Free) is, so we decided to give it the Rewind treatment in case any of you guys might have missed it. We played through the first few levels and made some insanely poor tactical decisions along the way.
As a tower defense game, Kingdom Rush does just enough to feel a little different from the rest of the pack. There's a hero mechanic, which allows you to take in a lone unit that can seriously wreck house. You control him as you would an RTS unit and move him around the board wherever needed. The barrack mechanic is also cool. Barracks spit out soldiers, which tie up enemy mobs so your turrets can deal damage longer.
What probably put Rush over-the-top is how cohesive the entire experience is, as well as Ironhide Games commitment to supporting its title. Content updates are still coming down the pipe. In fact, we saw the release of another last week.
Anyway, Kingdom Rush is a neat game that a lot folks really dig. If you're looking for a long, support tower defense game, this is probably it. Check it out.