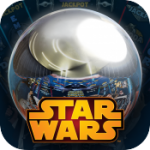 When Zen Studios originally announced Star Wars Pinball in early February, they had stated the three new tables based on the iconic series would hit as both DLC for the existing Zen Pinball (Free) app and as a brand new standalone game. Then when the Star Wars DLC finally hit Zen Pinball towards the end of the month, there was no sight of said standalone game.
For whatever reason it was running a few weeks late, but Star Wars Pinball ($1.99) has just launched in the App Store as its own separate app, and it comes equipped with widescreen support for the iPhone 5 to boot, something we can't say for its older Zen Pinball sibling.
For the $1.99 download of Star Wars Pinball you'll get the table based on Episode V – The Empire Strikes Back, with the Clone Wars table and the one themed after Boba Fett available as in-app purchases for $1.99 each, all the same price as in Zen Pinball.
I'd like to see Zen Studios get widescreen support into the original Zen Pinball, and according to their Twitter it's on the to-do list. But if you held off on the Star Wars DLC before because you weren't interested in the whole package, or you're just dying to play with widescreen support, you can check out the standalone Star Wars Pinball right now. Oh, and just in case you missed it before, if you're like me and you love pinball but are completely terrible at it then check out this video series we came across to tighten up your game of silver ball.