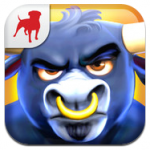 If your cravings for behind-the-back runners somehow still isn't satiated, or you've felt the genre was lacking in the social engagement area, then Zynga is hoping to woo you with their newest title Running with Friends. You can probably guess exactly what it is by the title alone: a Temple Run-like endless runner decked out with the social trappings that Zynga's games are known for. Running with Friends was briefly launched in the Canadian App Store back in January, but if you blinked you would have missed it. It appears they weren't quite ready to hit the market, but are taking another stab at it today according to an article at VentureBeat.
The plan is to launch Running with Friends in the Canadian App Store again as a soft launch, with a worldwide rollout happening about a month from now if everything goes smoothly. Right now, in fact, a version of the game is available in the Canadian App Store called Running with Friends Free [Free]. As with many other Zynga games, I'm thinking there might be an ad-free pay-up-front version at some point too.
As for the game itself, Running with Friends is set at the famous Running of the Bulls event in Pamplona, Spain. That's a pretty darn great setting for a Temple Run-like game, I have to say. Mechanics appear pretty standard, with plenty of swiping, jumping and sliding, though there are sections with breakable objects to smash through and occasionally you'll actually be able to hitch a ride on an actual bull. There are also 3 playable characters: a ninja, a ballerina, and a zombie. Here's a couple of App Store screens.
With Zynga's reputation of borrowing a little too liberally from the design book of other popular games, Running with Friends will no doubt take some heat. The truth is though, there's no less than one zillion Temple Run knockoffs in the App Store, and if anything I'm surprised it's taken this long for Zynga to put out their own game in the genre. I'm also curious to see how playing with other people works out, as it might end up being pretty cool.
If you're Canadian or have access to a Canadian App Store account, you can check out the game for free with the link below. Keep in mind that it's iPhone or iPod touch only, no iPad support. You can also drop some comments in our discussion forum and keep your eye out for a worldwide launch of Running with Friends in the near future.
Canadian App Store Link: Running with Friends Free, Free