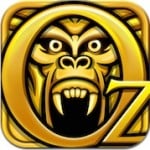 So, yeah, Temple Run: Oz ($1.99) is real, and as you're probably expecting, it plays a lot like Temple Run 2 (Free). At least, all the core mechanics that make that game sing — the upgrades, the quick turns, and the leaping — are all present.
What might surprise you, though, is that the fit between film IP and Temple Run feels pretty natural. This also seems like a much more active take on Temple Run. Roads constantly crumble, tree limbs fall, baboons swoop in after you; you've got stay on your toes as you play, which is neat.
Anyway, you've seen some images of the game, but if you'd like to see it in action, just check out what we've got below. Eli and I gave it a spin the other day and tried to show as much as possible in a short time. We go through two environments, as well as explore a few of the game's new persistent systems.
Just a note: a lot of our conversation hovers around IAP since I decided to go crazy in my mad dash to show everything. What I didn't do a good job of explaining is that this, like Temple Run 2, doesn't require your real dough. You can have a lot of fun without it.