Ravenous Games is doing what they do best and readying two new iOS releases that are full of pixely platforming goodness. First up is a sequel to their 2012 action platformer Random Heroes (Free). While we thought the first Random Heroes was pretty decent, it was also a bit on the short side and felt like it lacked variety.
Ravenous is spicing things up in the sequel by allowing you to fire your weapon upwards using an interesting sounding "sliding" shoot button, and you can also hold down that button and walk in the opposite direction to strafe backwards while firing. Also, you'll be able to move the controls around the screen as you see fit.
Like its predecessor, Random Heroes 2 will boast a huge cast of playable characters, each with unique abilities, and an upgradable weapon system. There are 3 chapters each with 30 levels and boss fight, as well as hidden coins and skulls to discover, the latter of which will fuel the upgrade system.
Development should be wrapping up this month before Random Heroes 2 gets shipped off to Apple for approval. Keep tabs on the latest discussion in our forums and we'll let you know when there's a solid release date.
---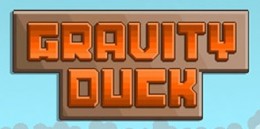 The other title Ravenous has brewing is called Gravity Duck. Unsurprisingly, you play as a duck with the ability to control gravity. I'm pretty much game for anything that stars a duck.
As you can see in the following trailer, the gravity flipping and levels look designed to keep things fast-paced, something I had a minor issue with in another Ravenous animal-themed platform puzzler Burger Cat ($2.99). Don't get me wrong, I loved Burger Cat, but it felt a little slow. That doesn't seem to be the case with Gravity Duck.
According to Ravenous, Gravity Duck will come with 100 different levels, Game Center integration, and will be Universal and support iCloud game syncing. Oh, and we won't have to wait too long for it, as it's launching next Thursday. Check out more on Gravity Duck in the thread in our forums.