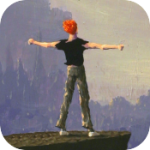 If you're a fan of Another World ($3.99) and just so happen to own an iCade, iCade Jr., iCade 8-Bitty, or the numerous other peripherals that work off the iCade-style Bluetooth keyboard emulation, you're in luck. Aside from adding a whole bunch of new language options and some better iOS 6 support, Another World now fully supports the iCade.
Another World is about as classic as you can get when it comes to an adventure game. We lay out the premise in our glowing review:
Another World (which was also known as Out of this World in certain markets) is a cinematic platform adventure originally released on the Amiga back in 1991. The game tells the story of physicist Lester Chaykin. As is illustrated in the game's introductory sequence, Lester returns to his underground laboratory one stormy night to continue work on a particle acceleration experiment. Shortly after the experiment is underway, a bolt of lightning strikes the laboratory, sending millions of volts into the accelerator and resulting in the freak teleportation of Lester to a far-away alien planet.

After close run-ins with razor slugs and a particularly intimidating muscular beast, Lester is taken prisoner by the humanoid aliens indigenous to the strange world. With help from a friendly, captive alien, Lester endeavors to escape from the underground prison to which he was taken, a feat which proves to be extremely challenging given the dangerous environments and creatures (and puzzles) that lie ahead.
Aside from being an amazing port, and an all-around fantastic game, iCade support just adds one more thing to the list of reasons for why you should give this game a shot if you haven't already.