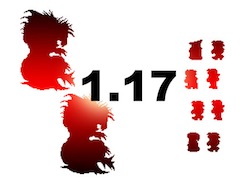 Square Enix has unveiled yet another one of its countdown teaser sites for another Final Fantasy video game, but interestingly this one's going to be an original mobile game. At least, that's the word from several reports based on the site's URL and source code. The URL pegs it as FF ATB, or Final Fantasy: All The Bravest, an unknown title that Square trademarked back in December 2012. The site's source code apparently has an iTunes link baked into it.
As for the image, it seems to show some traditional Final Fantasy sprites getting rowdy with a bad monster thing. In our brains, this seems to position the game as more classical than new age Final Fantasy, but that's just our speculation.
As for when we'll know what this is and where it'll see a release, we'll probably get a heads up on 1.17. Naturally.