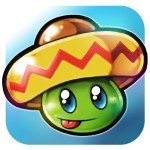 To celebrate the release of Time Surfer ($0.99), a new endless runner that we took for a spin yesterday and are enjoying a great deal, developer Kumobius has dropped the price of their first iOS release, the platformer Bean's Quest ($2.99), for a limited time. Bean's Quest has a pretty interesting history. It originally launched in July of 2011, and we thought it was fantastic at the time but woefully short, calling it a "fun five minutes." The plan according to Kumobius was to add more levels and worlds to the game post-release, a promise we've heard many times on iOS but one that isn't always followed through with.
However, Kumobius came through, and through a series of updates they tripled the size of the original game by adding new worlds and levels, culminating in the final update last February. It took a bit of time, but Bean's Quest finally realized its potential and became the full-fledged platformer that we always knew it could be. And right now you can and should grab it for free for the first time ever.
Bean's Quest took a fresh approach to platformers when it released. It tasked you with successfully bouncing your way to the end of each level, which could be difficult in and of itself. But then it turned around and asked you to do it in the least amount of bounces as possible, which really turned up the intensity for those craving a serious challenge. Its level design, controls, and retro-aesthetic were all top-notch, and eventually the amount of content in the game matched that same high level.
Don't mess around, grab Bean's Quest while it's free, and have a look at Time Surfer while you're at it as a way to say thanks to Kumobius for this freebie.