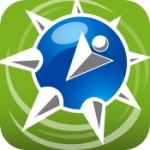 Wow, this is awesome news. One Man Left's fantastic arcade title Tilt to Live ($2.99) and its iPad-only counterpart Tilt to Live HD (Free) are both receiving updates that will take their previously local-only cooperative multiplayer modes online using Game Center. If you're unfamiliar, Tilt to Live is an avoidance game that has you tilting your device to avoid a barrage of nasty red dots. It uses this base mechanic in several different modes, each having their own unique feel and style making for one of the best arcade games available on the App Store. We summarized the whole Tilt to Live experience pretty well when the game went free earlier this month (which it still is by the way).
The Viva La Turret paid expansion that hit Tilt to Live in late 2010 was updated a couple of months later with a really interesting co-op component, called Viva La Co-op. Connecting locally via Bluetooth, two players could work together with one controlling a mega-turret laying waste to all the incoming baddies and the other person nimbly moving around the play field collecting the spoils of the downed enemies. It was an incredibly fun mode, but required having another person physically there with you to play. With this new update, now you can get your co-op on using Game Center to team up with random players or invite friends from your friends list.
We're excited to dive in and try out the new "Viva La Co-op" online multiplayer, but as of this writing the update has yet to hit the US App Store, we've only gotten word of the update via an email from the developers. But, not one to want to waste time, I figured I'd let the cat out of the bag as soon as possible, so if the update isn't showing for you just yet it will soon, for both the iPhone and iPad versions of the game. Oh, and the iPhone version is also receiving widescreen support as part of this update, something that makes me very happy indeed. Get online and partner up for this new and improved Tilt to Live experience.
Update on the update: The update is now out!