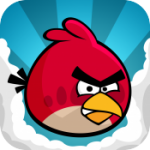 The game that started it all, Rovio's Angry Birds (Free) is celebrating its third anniversary with a 3.0 update that, like most previous Angry Birds updates adds some new content and other tweaks. The biggest of which is probably iPhone 5 support, but they've also added a new bird along with 15 birthday-themed levels and 15 Bad Piggies (Free) themed levels.
Other interesting things on the Angry Birds radar include a re-shuffling of the actual app listing on the App Store. Previously, Angry Birds was listed under Chillingo's Clickgamer brand, originally designed to separate "AAA" titles from more casual games like Angry Birds. Now, the original has been moved in with the rest of the Rovio Entertainment flock on the App Store. This is the first time we've seen something like this happen, as typically when things change hands like this it involves a messy re-listing, leaving your old customers out in the cold, etc. Apple seems to have done some special magic for Rovio, although, now the question is, what about Chillingo?
Last, but certainly not least, The Guardian has confirmed that there is in fact an Angry Birds movie coming. It's slated for summer 2016, and it's already got some serious talent behind it with producers responsible for movies like Despicable Me, Hop, and more. I can sense the entire internet groaning.