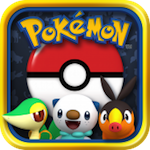 That Pokedex app we were talking about last month has appeared on worldwide on the App Store as a Universal app. With an initial purchase, you'll get access to every Pokemon available across the "Unova region" in the games. Additional $5.99 purchases unlock all the other regions. There's a total of four other regions, to be a little more specific.
Pokedex for iOS ($1.99), as its called, is a digital encyclopedia of Pokemon that tells you how to find a specific Pokemon, how a given Pokemon fights, dishes out details on evolution, and gives you the skinny on its ability tree. The app includes 3D models of every Pokemon and supports retina visuals. Here's some screens:
We're not sure what the actual use case for this is, but Pokedexes appear to be a thing people want, if the oodles of non-official apps can be taken as an indication of popularity and desire. In fact, there's so many of other Pokedex apps out there that The Pokemon Company's marketing effort actually includes the line: "search for 'Pokédex' on the Apple App Store and choose the following icon [picture of the app's icon]" just to make sure people grab the right one.
It'll be interesting to see how many third-party Pokemon Pokedexes disappear in the coming days since The Pokemon Company has its own. We'll see, eh?