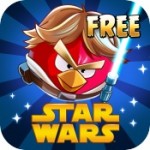 If you've been dying for some interstellar bird flinging between Rebel and Imperial forces but have been wary about tossing a few dollars towards such an affair, Rovio has got your back. Their latest crossover hit in their bid to infiltrate every known product and brand in the entire universe, Angry Birds Star Wars (Free), has just got a free lite version to try. Angry Birds Star Wars Free (Free) offers a taste of the Birds' latest adventures in the Star Wars Universe.
What you'll get for your zero dollars investment in Angry Birds Star Wars Free is a selection of 12 levels taken from the Tatooine, "Pig Star", and Hoth worlds. Oh, and you'll get served some ads every so often, but that's the price we pay for freebies sometimes. If you like what you're seeing in the lite version you can upgrade to the paid version of Angry Birds Star Wars for a full offering of both included and DLC levels sans the advertisements.
If you're stumbling around confused wondering what this "Angry Birds Star Wars" thing is that I speak of, go check out our review of the game in which we awarded it no less than 5 stars. It successfully took the tried and true Angry Birds formula and interjected it with some welcome new mechanics and character. It also used the Star Wars license to great effect, sure to please fans of both series. Its first major update added a whole new world of levels on the ice planet Hoth, improving an already great offering.
Give the new lite versions a spin to see if it's up your alley, and if you feel the need to feed the Dark Side the full paid versions are just a click away with the links below, and will help Rovio continue their Imperial-esque quest for galactic domination.