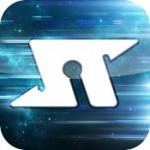 Ok here is something awesome. A former Bioware developer, Henry Smith of Sleeping Beast Games, has struck out on his own into the world of indie development, and his first iOS project has landed in the App Store. And it's an incredibly unique idea. It's called Spaceteam (Free), and it tasks you with grouping together with 2-4 players in real life and working together to save a spaceship that is quickly going into meltdown.
This is where the genius part comes in: the app itself displays various control panels of the spaceship that must be adjusted or maintained to keep the craft from falling to pieces. The twist is that the game only gives you instructions for other team members, which you must relay to them as quickly as possible as the actions to save the ship are all on short timers. The result is a group of people shouting instructions at one another in a heated fashion, a la a scene straight out of a dramatic episode of Star Trek or the like.
It's probably best demonstrated in this following video.
I've got to say I love this idea to pieces, but whenever games pop up that require me to interact with other humans in real life I often strike out. I just don't have that many real life friends who are big iOS gamers. However, the initial download of Spaceteam is free, so if you do have some people you know with iOS devices you can at the very least convince them to download and try it out with you. Who knows, you might have the next holiday party hit on your hands.
[Via Penny Arcade]