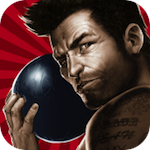 Remember that Activision published zombie bowling game we were kinda scratching our heads about the other night? Well, it's out now and available now, for sure, in the US. And here's a fun fact: The Bowling Dead (Free) is a Slant Six game. Slant Six, if you're not familiar, makes games in the AAA space. Most recently, it put out a Resident Evil game with Capcom. Before, it handled several games in the SOCOM franchise across the PSP and PS3.
Anyway, what is The Bowling Dead? It's a game that manages to marry bowling, free-to-play mechanics, and zombies into a single, cohesive package. In the game, you're tasked with knocking down incoming undead by chucking bowling balls down the game's alley-like levels. Hit more than one zombie with a single throw and you'll be rewarded with points. You can also earn currency that you can use to buy character upgrades and special balls with fantastical abilities, like say, the ability to blow up on command. Also, there's a chainsaw ball.
We're still kinda chewing on The Bowling Dead as a whole, but it's a no-risk download if you want to give it a shot. Also, now we can finally bowling balls to the list of things we've crushed zombies with in video games. Whew.