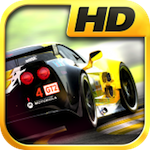 Heads up: Real Racing 2 HD ($6.99) is on sale … again. Starting now, you can grab the title at $1.99 instead of its usual $6.99. This is a pretty deep price cut for a simulation-based racing game that, mechanically and visually, still holds up despite its age.
If you're holding out for the iPhone version's sale, you missed the boat. It got marked down last week and recently just shot up to its regular price. The good news is that one of these versions seems to go on sale every other week, so if you keep your eyes peeled, you'll probably catch the next one.
Real Racing 3, the next game in the franchise, is due out at some point this year. And, man, does it look absolutely fantastic. Check it out if you haven't.