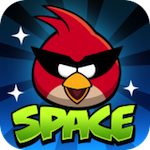 Building on the game's last update, Rovio Mobile has just busted out ten new additional Red Planet levels for the iPad and iPhone versions of Angry Birds Space (Free). Interestingly, these are "volcanic" themed, but the Mars Curiosity connection is still present, as one of these new levels includes a "Mar Curiosity Rover boss" fight.
As usual, there's some bonuses packed in. If you can three-star everything in this pack, you'll unlock an egg level. If you find the "hidden rover," you'll unlock a bonus level. Neat!

It seems like support is going to keep on coming despite Rovio's involvement with another space video game thing, Angry Birds Star Wars.