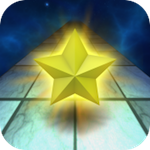 Earlier this morning, Eli and I spent some time with Skyriders ($0.99). It's a cool, 3D vehicle-based platforming game that tasks you with speeding through tunnels and picking up stars for modifiers that lead to huge scores. Built with the gamer in mind, it also has a neat RPG-like system. Get enough points and you'll be able to bump up stats like acceleration and other stuff, like, say, the distance in which you can pick up stars.
This is one of our more off-beat commentaries, so we'll say it here: this game is solid. The level design in particular is outstanding. Without making the game feel too frantic, it pushes a breakneak tempo and constantly introduces interesting choices.
Skyriders has been on our Hot Games list for a bit because our community digs it, too. It's available now as a Universal app for $1.99.