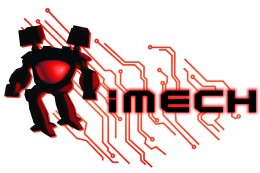 Back at WWDC in June, we got to check out an early build of iMech Online, and upcoming mech-based online multiplayer shooter from developer Mobula Games. If the name iMech rings a bell, that's because it was a game originally released back in 2009 by Flying Dino Games and was one of the very first iOS games to feature up to 8-player online combat.
That original iMech has since been decommissioned, but former Flying Dino employees snatched up the IP and banded together as Mobula to rework and rerelease an improved version of the game, now known as iMech Online. They've just released a new gameplay video showing quite a bit of progress in the game since we last saw it in June.
iMech Online is just about ready to leave its alpha phase and begin with beta testing. As you can see in the trailer, it has a much more vibrant and stylish look than the early builds we have seen, and it seems to be coming along really well. If they can nail down a solid online experience then iMech Online could be one to look out for if you crave some online competitive mech battling (don't we all?).
Look for more on it as development continues and check in on our forums as we wait to hear more on when iMech Online will hit the App Store.