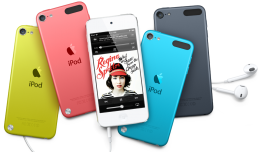 If you're the kind of person who prefers gaming on their iPod touch, as of today you're one step closer to enjoying the beefed up performance and 16×9 display of the Fifth generation iPod touch. MacRumors is reporting that folks who preordered are now having their credit cards charged and some units are being shown as preparing for shipping.
Similarly, Japanese rumor site Macotakara is reporting that the new iPod touch is going to be available in stores (in Japan, at least) on October 9th. Supplies will likely be tight, so if you want one I'd suggest getting there early.
I'm specifically excited for people to start getting the new device so the various outfits that do tear downs and benchmarking can have at it. The iPod touch typically has been slightly underspecced compared to iPhones, and it's going to be interesting to see both if this is the case this time around and how significant of a "downgrade" it actually is.