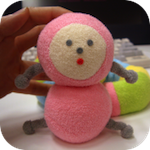 The creator of Katamari Damacy, Keita Takahashi, also created an equally absurd game for PlayStation Network back in 2009 called Noby Noby Boy. About a year later a version of Noby Noby Boy ($1.99) hit iOS, and wasn't a port of the PSN game but rather was a collection of weird apps and mini-games featuring the stretchy main character BOY. People either loved it or hated it, but either way Noby Noby Boy on iOS was a thing that existed.
Now that existence looks like it might be coming to an end, as Keita Takahashi has revealed on his personal blog that support for Noby Noby Boy on iOS is ending, and that the game will be pulled from the App Store next week on October 9th. No reasoning was given for this decision, and it sounds like it's coming from the higher ups at Namco Bandai rather than Takahashi himself, who still plays the game from time to time, saying "That is totally silly app but I'm enjoying it sometimes even now. Thank you for playing this silly app."
Takahashi apologizes for the end of Noby Noby Boy on iOS, and if you've previously purchased it you may want to back up the .ipa file on your hard drive for safe keeping, and likewise if you hadn't picked it up before but are interested you should definitely grab it before next Tuesday when it will be too late.
[Venus Patrol via Joystiq]