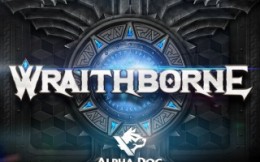 Traditional hack-and-slash games feel surprisingly good on touch devices, so we can't help but to get mind-numbingly stoked each time a new one is announced. Crescent Moon Games' just revealed Wraithborne is no exception to this. Set to hit iPhone and iPad later this year, it's being billed as a "dark fantasy" hack-and-slash that will task users with killing monsters and exploring a world that is seeing its magic return.
Also, it's being built in Unreal Engine 3, as you'll probably notice from the assets and trailer we've got all over this article. It goes without saying almost, but this game looks killer:
The studio behind this is Alpha Dog Games, by the way, which has some dudes that worked on Warhammer games over at Relic. You can kinda see that 40K influence in Wraithborne's tone, art, and themes.
No firm word release outside of "fall." But we do know that it won't be free-to-play. In a statement, Crescent Moon says that Alpha believe that "there are players who simply want a fun, story-driven action experience while exploring the scenery of a beautiful Unreal Engine-powered game."