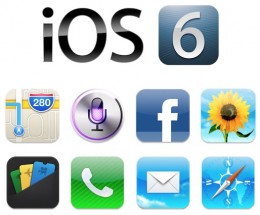 If you're not going to be getting an iPhone 5 this Friday (or even if you are and just want to experience iOS 6 for a day or two early), you're in luck. Apple just released the iOS 6 update to the world and per Apple it sports over 200 new features. In particular, the new maps and turn by turn directions seems super cool and makes the navigation in my Prius seem archaic in comparison. If you're a big Siri user, tons of new functionality has been implemented and Siri in general just feels a bit "smarter" in what it's capable of doing. I'm also really excited to see what comes of Passbook, as I'd love to get rid of my various loyalty cards and consolidate all my barcodes into a single app.
Anyway, iOS 6 is compatible with the third-generation iPad, iPad 2, iPhone 4S, iPhone 4, iPhone 3GS, and fourth-generation iPod touch. If you've got one of those devices, you can either update directly on the device from the Settings app or just plug it into iTunes like previous major updates. If you're one of those types of people who are overly cautious about installing updates, I'm sure our forums will be filled with impressions regarding iOS 6's performance in games as more people install it over the day.
Additionally if you'd like to read an actual proper review of iOS 6, I recommend heading over to Ars Technica as Jacqui Cheng knocked it out of the park.