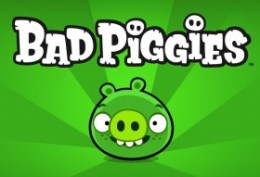 We've been working on a horrible "when pigs fly" joke for, like, the last hour and have nothing to show for it, so we'll just give you the news sans hilarity: Bad Piggies, Rovio Mobile's next game, is a physics-based puzzler that'll put you in charge of building custom vehicles and aircraft designed to carry the game's pigs in an epic quest to steal eggs.
At least, this is what the game's latest trailer seems to be screaming at us. When the game was announced a week or so ago, Rovio didn't talk about any of the game's specifics, including this part.
This building mechanic is a neat one that we've seen before in, most notably, Banjo-Kazooie Nuts & Bolts. It'll be interesting to see how streamlined Bad Piggies will feel in comparison, as we've got a feeling Rovio is going to do its best to keep the casuals on board with its games.
We'll see soon enough. Bad Piggies is due out this September 27 across iPhone, iPad, and Android, with other platforms to follow.
[via TechCrunch]