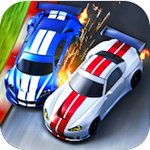 Earlier this morning, Eli and I dug into VS Racing 2 (Free). It's a sleek top-down racer that, naturally, tasks you with racing fast cars around increasingly convoluted tracks. One of its most notable features is its accessibility: smashing into dude and shredding corners is a breeze, courtesy its one-button steering interface. It's also a looker, and appears as if its slated to get a lot of new, game-changing car content down the line.
The original VS Racing was a pretty big deal, and VS Racing 2 picks up right where that game left off, as it sees the return of a lot of that game's systems and features. Fans of VS Racing 2's predecessor won't be disappointed with this one, in other words. Go figure, right?
Anyway, check it out below. We recommend it. As long as you don't stare into the game's Matrix for too long, it's easy to get swallowed up by its simplicity and action.