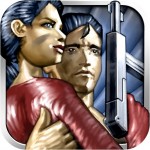 Yesterday Gamesmold unexpectedly released their newest iOS title called Blood Roofs (Free), and it's always nice to have a random Sunday game release. It's a – get this – behind-the-back running game built using the Unreal Engine. Despite being another entry in a near-endless genre of these running games, Blood Roofs is actually a pretty neat departure from the norm so far.
You play as heroic, shirtless, Brad Nicholson-esque character who takes it upon himself to rescue a lady in distress. For whatever reason, you're both hanging out on the rooftops high above the city during an intense rainstorm. All around you horrific monsters are invading, so you swoop in and grab your girl, whose name is Catherine, and carry her in your arms as you leap from roof to roof to evade the evil beings.
Catherine is wounded and cannot run on her own, but she can still assist by firing her weapon. She's not the only one in need of help, either, as there are several unlockable characters to take the place of Catherine like an escaped convict, a mermaid, and for whatever reason a grandfather clock. Sometimes clocks need rescuing too, I guess. Check out the trailer.
The people in our forums seem to be really liking Blood Roofs so far, despite a couple of drawbacks. Namely, the jumping feels kind of floaty and the viewpoint is set so low it can make oncoming hazards hard to spot. I've been playing a bit and agree with those criticisms, but once you've spent a little time with the game you get used to its feel and they're not such a problem.
At any rate, the ability to choose your own path over the vast expanse of rooftops gives Blood Roofs a different feel than your average Temple Run-alike. Plus its got some pretty impressive visuals, and some really interesting monster designs inspired by H.P. Lovecraft. We'll keep on plugging away at Blood Roofs and will bring you more from the game soon.