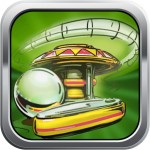 Gameprom is one of the developers that really saw the potential of iOS devices as digital pinball havens. The elongated screens, the intuitive touch screen controls, the accelerometer that let you "shake" a table to give it a proper nudge. It just seems a perfect fit.
Since their iOS debut of Wild West Pinball (Free) all the way back in April of 2009, Gameprom have gone on to release a number of different pinball games, each typically being more elaborate and technically advanced than the last. It's up for debate whether you can jive with Gameprom's brand of ball physics compared to real life tables, but the bottom line is they perform well, look spectacular, and are lots of fun.
Over the weekend, Gameprom released their latest table simply title Arcade Pinball. The theme this time around is classic arcade games. There's a huge display screen in the middle of the table that plays various mini-games that have passing resemblances to ones you might have grown up with in the late '70s and early '80s. There's also a mini-table in the upper corner that looks like it's modeled after Q-Bert but plays more like a little pachinko machine. Check out the dubstep-laden trailer below.
The new Arcade Pinball is pretty cool, and should feel right in line with Gameprom's other offerings if you're into them. Here's where things get tricky though: due to some weird licensing issues, there are several ways you can actually buy the different Gameprom games. Let me see if I can break it down for you in the least complicated way possible.
Their original 3 pinball games, Wild West (Free), Jungle Style ($1.99), and The Deep ($1.99), are all currently free in their iPhone standalone versions. A good way to gauge if you'll like Gameprom's brand of silver ball is to download any or all 3 of them and check them out, since you know, they're free and everything.
However, a better and cleaner alternative is to buy one of their pinball collection apps. There's Pinball HD ($1.99) which includes the 3 previously mentioned tables plus has access to most of their other collection by way of in-app purchase: AC/DC Pinball, Da Vinci Pinball, Snow Pinball, Slayer Pinball, and the new Arcade Pinball.
Then there's yet another collection, aptly named Pinball HD Collection (Free), which includes all the previous tables mentioned for purchase as well as the 3 licensed '80s movie tables from the standalone War Pinball ($1.99) app (those 3 tables are based on the movies Platoon, Navy Seals, and Missing in Action, and are all pretty sweet). Pinball HD Collection is the way to go if you want all of Gameprom's pinball games in one single app (or theoretically 2 apps, since none of their pinball games are Universal). Also, none of your purchases transfer between apps, which is kind of unfortunate.
Aside from a confusing amount of ways to buy their tables, I love Gameprom's pinball games and will continue to buy and re-buy them if I have to, though I seriously hope there's not yet another collection on the horizon. At least their prices are pretty cheap, with all tables running beweeen 99¢ and $2.99, and the new Arcade Pinball clocking in at $1.99. For sake of simplicity I'll just list the links to the Pinball HD Collections below, since they're currently the most definitive collections, but definitely check out their free offerings if you haven't yet and at the very least there are enough different options for buying these games that something is bound to suit you.