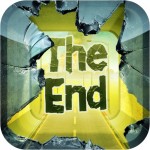 We are living in the age of Temple Run (Free) clones, but that's actually turned out to produce some pretty cool variations on the formula. One that we rather liked is TheEndApp (Free) from developer Goroid, which launched back in July. We gave it a thumbs up in our original review, and later in the same month a significant content update hit that added all sorts of new modes, items, and a new character for those who upgraded to the "Pro" version via in-app purchase.
Along with that update came a teaser for a new content pack called the London Apocalympics, and today that content has finally hit TheEndApp. The Summer Olympics in London ended last month, but in the post apocalyptic world they're just getting started with a whole new set of levels and challenges in a new destroyed London environment to run in. London has flooded, (due to apocalypse-y stuff, I'd imagine) and some parts of the stage you'll actually be running through water. Of course, destroyed double-decker busses and a bombed-out Big Ben are other clues that we're not in America anymore.
It's a pretty cool environment, and you'll get it for free if you're already one of the "Pro Upgrade" customers. If not, there's a new feature in this update for you too. You can now buy single tickets to try out the Pro Mode using the duct tape rolls collected in the game. It's a pretty neat idea, letting you test drive the Pro features without fully committing to buying the in-app purchase.
Other new stuff includes 3 new playable characters: Suzy the survivoress, Yukiko the Japanese school girl, and Bobby the British police officer. Each one will run you a couple hundred thousand rolls of duct tape, same as the previous new character Fred the Zombie. Finally, some new achievements, bug fixes, and overall performance improvements round out the update.
If you have room in your heart for another behind-the-back endless runner, TheEndApp is definitely one worth considering. It's a good game just with what you get for the free download, but the allure of the Pro in-app purchase upgrade has grown even stronger with this latest update, and I think is totally worth the $2.99.