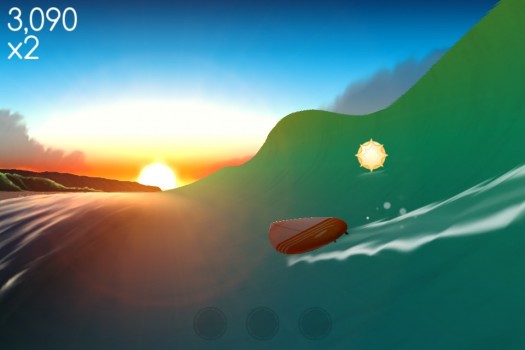 This afternoon, Bradley and I decided to get our toes wet and "hang ten" with the upcoming chillax-to-the max surfing game Infinite Surf. As you'll see from the video, "hang ten" is basically the only surfing term we are aware of. We don't get out a whole lot.
You also might remember that Infinite Surf is a game we posted about last week, and is the follow-up title from Cubed Rally Racer (Free) developer Jared Bailey. It is quite a departure from that first title, too. Whereas Cubed Rally Racer is an often extremely difficult and frantic race to get to the finish line as quickly as possible over a series of randomly generated courses, Infinite Surf is a laid back ride on the perfect endless wave.
There's a game here to be sure, but it's really only ever as difficult as you want it to be, thanks to the clever use of optional score multipliers you can pick up during play to increase the speed of the game. Since recording this video, Jared has informed me that the various surfboards you can choose in the game will also let you start the game from different speeds right off the bat, which is a minor complaint that I had with the build that I've been playing.
But really, Infinite Surf is meant as a casual experience that aims to give people a surfing game from a perspective that you don't typically see, and I think it succeeds at that goal quite well. It's already submitted to Apple, so we should be seeing it hit the App Store within the next couple of weeks, and we'll let you know when it does.