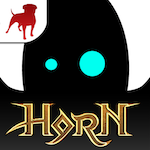 Earlier today, Jared and I sat down with Horn ($1.99). It's a 3D action adventure game that plays a lot like Infinity Blade. It's important to note, though, that Horn rocks a handful of smart iterative additions that give it some oomph. For instance, it's not on rails. Also, its combat embraces all three dimensions, allowing you to evade around bad dudes and attack weak spots located all over their gigantic, bulbous bodies.
Horn is quite the surprise. Its combat in particular has some welcome features that make it feel kinda like its own game. Of course, the spots of dungeon / puzzle design and the vibrant, light-hearted world are nice touches, too.
We're guessing more than a few of you are going to dig this, so give it a look if you haven't seen Horn in motion yet. It's pretty cool.