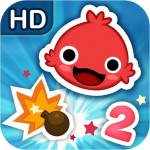 Godzi Lab should be riding high right now, with tons of people enjoying their recently released and adorable town-building sim Happy Street (Free).
However, we're quickly approaching the one year anniversary of their previous iOS release, the phenomenal puzzler iBlast Moki 2 ($2.99). In celebration, you can currently get the full Universal version of iBlast Moki 2 for free.
It sounds like Apple will be footing the bill for this promotion as one of their Free Apps of the Week in iTunes. Great choice, Apple. If you're unfamiliar with iBlast Moki 2 then give our original review a read. The first game essentially defined what a great physics puzzler could be like on iOS, and the sequel takes everything great about that and does it way bigger and better.
You can also check out our forums for more information or discussion, but either way don't miss the excellent iBlast Moki 2 while it's free.