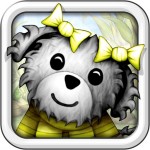 Those with a fondness for canines and matching gameplay can finally get in on what us cat lovers have been enjoying since March with Kitten Sanctuary ($1.99), as the dog-centric Puppy Sanctuary ($1.99) is now available in the App Store.
Gameplay is of a similar matching style as Kitten Sanctuary that has you completing a series of levels to rescue a poor little pup who's caught up in a cage. Once rescued you can plop your dog down in an assortment of environments and interact with them via various items and toys.
Puppy Sanctuary is free to download and try with a limited selection of levels, and the whole game can be unlocked for the launch sale price of 99¢ from within the app itself. There are no other in-app purchases beyond that, everything is earned through playing. Also, to celebrate the launch, Kitten Sanctuary sees a price drop down to 99¢ and there's also a lite version of that to try.
Matching games have become a hard sell in the over saturated market of the App Store, but Kitten Sanctuary was like a breath of fresh air when it launched and Puppy Sanctuary appears to continue that tradition. Definitely check it out for free.