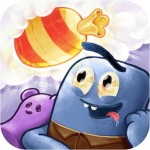 Remember daydreams? Those things we used to have when we didn't have mobile devices ready to fill in our every idle moment? Strapped to a Meteor, the developer behind DEO (Free), has brought back that feeling in Mr. Dreamer (Free) a game that will perfectly fit those very moments. It's a delightful game, but am I alone in finding some pathos in that?
No sense mourning what's been lost in the digital era when there are so many great games to play, though, and Mr. Dreamer approaches greatness for sure. Just look at the screenshots: it's adorable. And for a not-quite-endless runner, it doesn't play like much else out there. Would you hate me if I called it dreamy?
Each time you play Mr. Dreamer, you step into a daydream. Every day, it's the same dream: you, a blue fellow with a floppy stuffed animal in tow, are running through endless fields of candy. You travel through clouds of sugar and tasty treats until you reach your prize: the biggest, tastiest sweet of them all. Then you enter a new world of deliciousness to explore.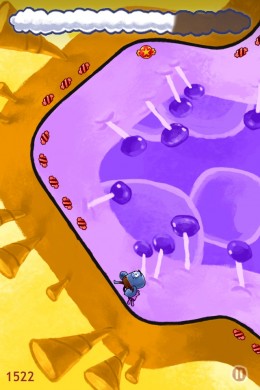 The trick is to keep the dream alive. Reality is eager to intrude, and throws an ever-increasing number of obstacles in your path. At first, all you need to do is stay on the top of the path. This is harder than it sounds as the path winds and twists and loops around. And there's often tempting candy on the underside, and you might want the points that go with it. But there lurks danger.
Your remaining dream is measured with a cloud meter. Whenever you're on top of the trail it stays steady. When you collect candy, it rises. But it falls rapidly whenever you're below the trail and collecting nothing. A tap is all it takes to flip, but you have to always be aware of which way is up, even when things go almost vertical.
Once you have the hang of that, Mr. Dreamer mixes it up again by throwing in bombs. Usually the bombs are exactly where you want to be, so you'll exercise your reflexes getting out of their way and back into position. Or you'll run into them, and cut your cloud meter down quite badly. On the flip side, there are power-ups. Big candies, for instance, give you a massive boost for every three you collect.
It's a simple mechanic, no doubt, and alone it wouldn't hold anyone's interest for long. But Mr. Dreamer's beautiful, hand-painted vistas and sleepy soundtrack really help to extend the game's life. And maybe I'm just a sucker for cute stuff, but the little costumes our little dreamer finds himself in each time you advance to a new world really keep me running. You haven't lived till you've seen him running along with his teddy while dressed as a luchador.
So what's the catch? Not much, unless you like steady frame rate or lack the newest generation or two of a given device. Mr. Dreamer runs surprisingly poorly for such a simple game, with slowdown and dropped frames aplenty. And simplicity can be a curse—while it brings to mind the joyousness of Tiny Wings ($1.99) even that simple game had a robust goal system on launch. There's an update in the works that should bring in the missing Game Center support, but that's a minimal sort of replayability.
If you're looking for a game that will keep you rapt for hours, Mr. Dreamer isn't it. When you need something to fill a brief, daydreamy break, though, it does a wonderful job. You can immerse yourself in its dreamworld and come out a little more refreshed. Maybe there are benefits to boredom and daydreaming, but who has time to be bored when there are games like this to play?