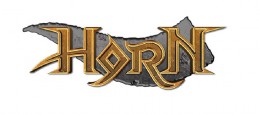 Curses! Demons! Destruction! Horn, Phosphor Games' upcoming iPad and iPhone title, has a new trailer. It's something of a "sneak peek," giving gamers a glimpse of the world that the game is based in, as well its various fantasy bad guys. If you pay attention, you'll catch that Horn's action mechanics appear to resemble Infinity Blade's, which, you know, is pretty cool. We hear Infinity Blade really clicked with people.
Interestingly, Horn is being positioned not so much as a serious fantasy game, but more of a light-hearted adventure. For instance, in the game, Horn carries around the head of a "loud-mouthed" creature that is also described as a "grudgingly helpful sidekick." Other monsters are said to be humorous, too, which is cool.
In fact, we hope we'll hear or see a lot more of these kinds of … features moving forward. Fantasy can be more than just serious dudes with serious swords and serious shields, you know? The more separation Horn has, the better.
Horn doesn't have a specific release date yet aside from a nebulous "soon" and "August".