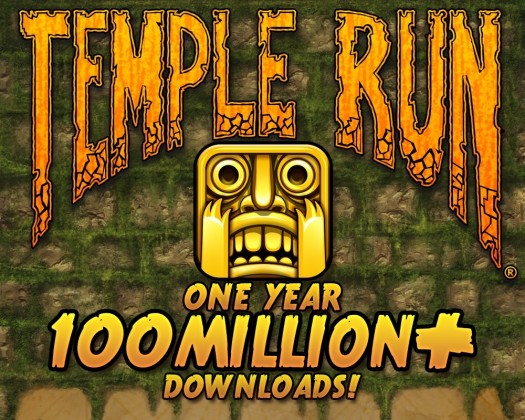 There really isn't another iPhone pop culture phenomenon that can rival Angry Birds, but if I had to pick the one that's closest it would have to be Imangi's Temple Run (Free). From Justin Bieber posting high score screenshots to his millions of followers, to Rick Santorum's kids talking up their dad's mad skills at the game, to a partnership with freaking Disney for the movie tie-in Temple Run Brave ($1.99), the Temple Run franchise has truly broken through to the masses.
And Imangi can back up that assessment too, with cold hard statistics. Today, on the eve of Temple Run's one year anniversary, Imangi has announced that their influential title has surpassed the 100 million download mark across iOS and Android devices, and they've got a few nice things planned to celebrate this incredible milestone.
First and foremost is a brand new Temple Run update which adds some much-desired Retina Display support for the new iPad, and let me tell you it looks great. There's also a new power-up called the PermaWings which you can equip before your run begins and it will automatically resurrect you when you inevitably perish. The normal Resurrection Wings that were already in the game have to be activated during your run and their effect only lasts 30 seconds, so to balance things out the superior PermaWings cost a pretty penny compared to the normal kind.
For those that find statistics interesting, Imangi has compiled this crazy infographic detailing some of the milestones and interesting facts behind Temple Run's success. Highlights include: 13% of the US population has downloaded the game; 50 million people downloaded it in just the first 4 days of launching on Android; and after hitting 1 million downloads 7 weeks after launch, it took less than a year (10 months) to reach 100 times that number.
Finally, as a gift to all the Temple Run fans, all of Imangi's pre-Temple Run titles will be free for a limited time. This includes their first big success Harbor Master (Free), the underrated dual-stick shooter Max Adventure (Free), and the adorable racer Little Red Sled (Free). Also their early word games Imangi (Free) and Word Squares (Free), Hippo High Dive (Free), and the photo watermarking app PhotoMarkr . Whew, a pretty sweet haul for free if you happened to not own any of these titles yet.
Expect Temple Run's popularity to continue to grow too, both as a game as well as a brand with some interesting merchandising on the way like clothes and board games. We're big fans of Temple Run simply because it's fun, it's free, and anybody can enjoy it. Congratulations to Imangi for their milestone and we look forward to more from them and Temple Run in the future.