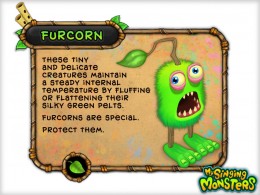 When it comes to iOS gaming, I love that most of my favorite genres and traditional game types that I grew up with are covered. But I almost appreciate the quirky, weird titles that would only be possible on the App Store even more. "Quirky" is about the best adjective I can think of to describe Big Blue Bubble's latest upcoming game My Singing Monsters.
It's a world-building game filled with monsters to collect, upgrade and breed. That sort of thing would typically be last on the list of things to get me excited, but My Singing Monsters has a pretty unique twist. All of the monsters sing and play different instruments, so depending on which ones you breed and place in your world you'll be able to create different kinds of songs. Check out the cute trailer.
This isn't the first time Big Blue Bubble has crafted a game around music creation, as that was the crux of the enjoyable game Thumpies ($0.99) back in early 2010. I'm not totally sure about the specifics behind how My Singing Monsters will play, but I do know it will have more than 30 monsters to collect, each island world will have its own musical theme, and the game will be free to play.
I'm not a big world builder or monster collector, but I'm more than a little intrigued by My Singing Monsters. It's said to be "coming soon" so we'll let you know when it hits the App Store.