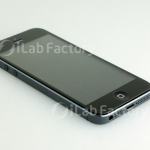 We don't generally report on Apple rumors, as that's a job much better left to our sister site MacRumors, but things are firming up quite nicely on the new iPhone front. This morning, iMore revealed they've heard that the "iPhone 5" and will be released on September 21st following a media event on September 12th where the next iPhone and potentially even the rumored "mini" iPad will be revealed.
Since then both AllThingsD and The Verge have "confirmed" the date. It makes sense it'd be happening soon, especially at the rate that things seem to be "leaking". Most recently a hands-on surfaced of what is thought to be the "iPhone 5" enclosure.
Give it a look:
What will be in the new iPhone is entirely speculation at this point, although things seem to be pretty firm on the taller screen. It seems reasonable to assume it'll be faster, potentially have a better GPU, and maybe even LTE onboard. The "mini" iPad is rumored to have similar specs to the existing iPad, but with a smaller screen. A number of mockups have appeared showing what people expect this new iPad to look like, such as this one compared to an iPhone.