Crabs and Penguins [Free] is a whimsical 3D runner. In the game, you control a crab on a quest to return a soccer ball to a bunch of kid penguins. Along the way, you'll collect stars for points and avoid dangers like, say, crab-eating fish. It's a simple game, but also a gorgeous one. Oh, and it's funded by Coke.
It's easy to be a jerk about Crabs and Penguins. At first glance, it seems like it's just a playable Coca-Cola commercial. You imagine that all of its ideas and mechanics were dreamed up in a board room, and the only reason it even got into that room to begin with is because a guy who wears jeans with his sport coat managed to convince all the old people that this was a good idea.
Maybe these things never happen like that, but you get my point: advergames tend to be lifeless experiences so it's easy to lump every new one you see into that pile. But if you play Crabs and Penguins, you notice that it's different. It's an OK game, and Coca-Cola angle isn't offensive — in fact, the connection feels kinda organic.
It just doesn't feel like an advergame.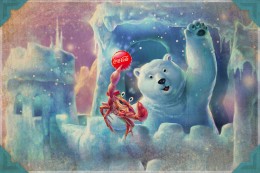 There's a couple of reasons why Crabs and Penguins isn't terrible. In large part, it's because a small studio that wanted to make a radical video game made this video game. But Coke was also pretty chill about the entire project, allowing creator Ember Labs to do its own thing and integrate the brand's messaging into the experience in a meaningful way.
Earlier last week, we prodded Ember Labs' Mike and Josh Grier and talked about how the studio approached Crabs and Penguins. We also discussed their studio's origin, which is an interesting tale that speaks to their passion as artists and creators and intertwines with the weave of how it executed on the game's ideas.
TouchArcade: Let's start at the beginning because I hear that this was your first game together. How'd you guys get into games dev? When did you talk with Coca-Cola? How'd that come about?
Josh Grier: My brother Mike and I started Ember Lab in 2009 as a VFX and animation company with the goal of eventually producing our own unique content. The company began as a small group of VFX artists who were driven by a passion to tell unique and amazing stories through the creation of digital media. In fact, even before 2009 we had a concept in development, Dust, which we wanted to produce as a film and perhaps use as a story platform for a game. Part of our motivation for starting Ember Lab was to build enough resources to make Dust a reality. So, our long term vision for Ember Lab has always included the melding of traditional entertainment with the interactivity provided by games.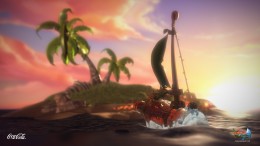 We got our start developing VFX for independent film projects and the company grew organically from there. In 2009, Ember Lab completed the VFX for a video game-inspired short film called Turbo. The film featured a futuristic fighting game where players controlled their avatars using motion control and an interactive screen. We worked for months in my parent's attic completing hundreds of VFX shots and Turbo received a lot of positive press online. The success of Turbo helped us land a job on a Coke Zero commercial that was featured on the Avatar website.
We continued creating VFX for several Coke commercials including the company's first Stereographic 3D commercial, Follow the Bubble. Working on these projects allowed us to connect with Stafford Green, Head and Founder of the Coca-Cola Content Factory.
Stafford was looking for innovative ways to promote the Coke brand and we began discussing ideas for branded entertainment. We saw it as a great opportunity to leverage our background in filmmaking to create a cinematic experience that included both traditional media and gaming elements; bringing us closer to our long term vision for Ember Lab. Eventually we pitched Stafford several concepts for fully CG animated spots that could be integrated into a gaming experience. Crabs and Penguins evolved from one of our original pitch ideas and that's how we ended up developing our first game.
A lot of the elements of CG animation like character development, modeling, animation, etc. actually translate well into game development. That's one of the reasons why we decided to go 3D with the game. That's not to say there weren't challenges along the way; including optimizing the game for mobile hardware while maintaining a unique artistic quality. Working with an iconic brand like Coke, we knew the game had to appeal to a wide audience. The goal was to create a game that was easy to pick up and play but also offered challenges for more experienced players.
Cool, so just to be clear, you handled all the video game elements in Crabs, too? And Dust — that's something you want to come back, too? Are you more into the possible video game connection with this experience behind you?
Josh Grier: Yes, our team handled all of the programing elements on Crabs and Penguins for both the iOS and Android versions. (The android version of the game will be available in the next few weeks).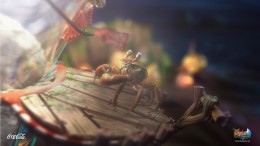 and social media aspects of digital entertainment are really appealing to us. Transmedia entertainment is definitely becoming more important to the industry and gaming is a major part of that shift; especially with mobile devices become more powerful and "main stream." That's my take on the industry but on a personal level, the members of our start up team are all avid gamers and finding opportunities in gaming has been a big part of our motivation. We grew up together in Orlando, Florida and a huge part of our experiences as kids centered on gaming. With our proximity to Disney and the blockbuster animated films being released while we were growing up  — Alladin, Lion King, Toy Story — the connection seemed natural to us. We have always talked about ways to integrate story telling mediums with the immersion and interactivity of games.
Our experience with Crabs and Penguins brought us closer to our goals for the future and we're looking to continue producing transmedia content. With our first game completed, we are highly motivated to do the same kind of thing with Dust. Using a gaming connection, we plan to expand the world but on a larger scale and with a much different art style. Currently, we are finishing up post production on the first short film that introduces the world of Dust. We are building an online following for Dust and will be taking the film to festivals next year.
You straddle that line with Crabs and Penguins. There's a lot of Coca-Cola in it, but that brand's symbology and messaging is artfully weaved into the game design. For example, using the bottle as a boat — that's brilliant and non-offensive. Did you play a lot of advergames before jumping into this? What specifically did you want to avoid?
Mike Grier: We haven't played many recent advergames but we are big fans of some of the old school ones like Disney's Magic Quest. This may not be technically classified as an advergame but it definitely promoted a brand while still being fun to play.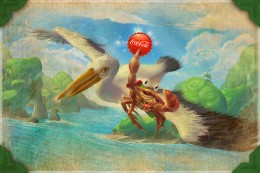 We did understand that advergames currently have somewhat of a negative reputation. We didn't think of Crabs and Penguins as an advergame we just wanted to make something that was fun to play. One of our rules was that branding elements couldn't disrupt gameplay. We wanted to avoid making the player feel like they were just watching a commercial.
The majority of our inspiration came from the games we enjoy playing: Donkey Kong Country, Mario, Zelda, Sonic, etc. One thing that we felt strongly about was how those games created memorable characters and stories. We hoped that experiencing the Crab's journey through game play would help players connect with the character.
Was there a certain amount of branding that needed to go into it? Was Coke like, "hey, this thing needs way more polar bears, guys. Way more." I'm trying to get a sense of what that working relationship was like as you designed this game. Were you able to do whatever you wanted? Or was there a design doc that, I guess, dictated specific specific messaging?
Mike Grier: We had a really positive working relationship with Stafford from Coke and initially spent quite a bit of time figuring out the details of the story. This is when most of the branding elements where fleshed out and we worked with Stafford to ensure the commercial fit within the Coke brand.
After locking the script we actually had a lot of freedom designing the game. We developed the levels to stay true to the art style that was established in the commercial but there was never a big push by Coke to continually add more branded content. In fact we ended up toning some of the elements down to avoid over branding. Overall Coke was completely supportive and agreed that we should focus on game play. Coke trusted us a lot during the development process while we looked to them to ensure that everything was on message.
As a practical example, how did the polar bears get in there. Your idea? Or Stafford's? Can you give me a rough idea how you dreamed up and then implemented that idea from wherever it started?
Josh Grier: If I'm remembering correctly, I think it was our idea. We wanted every level to have a friendly and with Coke's iconic polar bear commercials they seemed like a natural fit for the Frozen Fortress level. Also it was a cool animal to feature on the post card for that level (finding the Coke Cap on each level unlocks post card art accessed through the level select menu).
We start our level design with write up describing the landscape and theme for the level. From that we develop a strip board layout. During the strip board phase, we determine the key design elements and get a rough idea of the collectible paths and placement of the "Cap Get" event.
Once that's complete our Art Director creates a visual target for several areas of the level giving the modeling team a solid idea of how everything should look.
What do you want people to get out of your game? And drink Coca-Cola has to be one of those things, right? Even in a small way?
Josh Grier: Ha, that's actually a good question even if it is bit loaded. Basically we want players take away a fun experience that strengthens their affinity for the Coca-Cola brand. Hopefully, CAP also makes people look forward to more gaming content from Coke and Ember Lab in the future.