My Xbox Live [Free] on iPad just got a lot more useful overnight.
Microsoft has released a new update for the iPad version of its Xbox 360 companion app, allowing you to browse, launch, and control specific Xbox Live content from your iPad. You can also see and stream new Xbox Live content from the "Discover" section of the app.
In a nutshell, Microsoft has turned My Xbox Live into a rough Xbox 360 media remote. You can launch the latest episode of Breaking Bad from the app, for example, and then pause, rewind, or fast-forward the episode from the app via a virtual controller interface. We have an image of the interface in this article.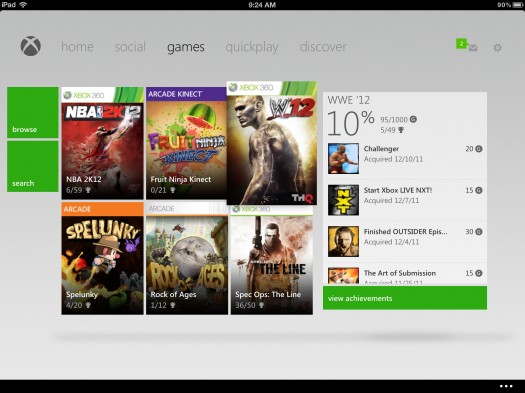 In order to get My Xbox Live to play nice with your console, by the way, you'll need to set companion to available in your system settings. Just blade over a few spaces when you pull up the dash and you'll see the option.
We gave this a test run earlier this morning and were pretty impressed by just how well it worked. Content launched really fast and setup was, surprisingly, a breeze. And while those are awesome things, it's hard not to note what My Xbox Live still doesn't do as you play around with it. You can't turn on your console from the app, for instance. Also, you can't buy content from the app, making this all kind of a wash for some of us.
One interesting thing we discovered is that My Xbox Live's virtual controller will pop up when you launch a game from the app. Unfortunately, none of the games we tried to play with via iPad responded to virtual button presses. Games we tried included: NBA 2K12, Spelunky, and Rock of Ages.
Regardless if you watch enough Xbox Live video for this to become a thing you'll use, this is a solid first taste of what Microsoft's SmartGlass initiative is going to bring to the Xbox 360. Our take? We're hungry for more.