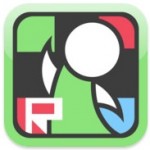 Have you ever wished you had Microsoft Kinect on your iPad? Me neither. However, you can get a similar effect with Madparker's just released iPad game Recurse ($1.99). Originally starting life as a No Quarter Art Game event project in 2010, Recurse came to PC and became one of those underground hit party games, sort of like J.S. Joust.
The idea is that you prop up your iPad, stand in front of it's front-facing camera, and then use your actual body to manipulate the green areas of the screen while trying to avoid the red areas. The results can be hilarious as you twist and shape your body around these virtual blockades, as demonstrated in this video.
I have to admit that Recurse is a clever game concept, and a great use of the front-facing camera equipped iPad 2 and 3. I'll definitely be giving it a try myself (while nobody is around, hopefully) to see what it's all about, but if it sounds like something that interests you or you're familiar with previous versions of the game then it's just a buck to check it out for yourself.