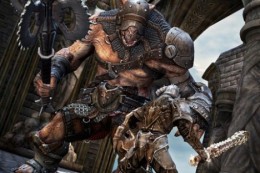 Secure those monocles, ladies and gentlemen, as this news is downright amazing. According to Tim Sweeny, CEO of Epic Games, speaking at GDC Taipei, Infinity Blade is making silly amounts of money for the company:
"The most profitable game we've ever made, in terms of man years invested versus revenue, is actually Infinity Blade. It's more profitable than Gears of War."
Just let that sink in for a minute. Infinity Blade, an iOS exclusive title that has been priced anywhere between $5.99 and 99¢ over the years, is more profitable than a $60 AAA title that enjoyed all the glitz and glamor that comes along side a multi-million dollar game launch marketing blitz. We're talking major network TV commercials, prime shelf space in nationwide retailers like Wal-Mart, and everything else …and Infinity Blade wins.
Also of note from the speech was mentioning just how mobile-centric the next iteration of the Unreal Engine is going to be. Overall efficiency is being improved, which will allow developers to scale the same projects between high-end PC's to comparatively low-powered smartphones.
Swing on by Gamasutra for full details from the keynote speech, meanwhile, I'll be arguing about the death of consoles on GameFAQs.
[Gamasutra via iDownload Blog]