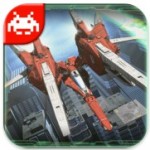 Back at E3 a couple of weeks ago we got our hands-on an upcoming iOS version of Taito's classic arcade shooter RayStorm ($9.99), and today the game is now available on the App Store. Most people in the US are likely to remember RayStorm from its release on the original PlayStation back in 1997, or as a downloadable re-release on XBL and PSN in 2010. During its time, RayStorm was a pretty technically advanced shooter, using the newly popular 3D graphic capabilities of home consoles and marrying it with classic top-down scrolling shooter gameplay. Check out the official trailer.
Being a 15-year old game, RayStorm doesn't quite dazzle visually like it used to, but the gameplay is super solid, and I'm a total fan of these old-school shooters. All these years later they're still a blast to play. RayStorm is the second release in Taito's "Ray" series of shooters, and the first title RayForce ($6.99), which also hit iOS at the beginning of the year, is currently half price to celebrate the new game's release. I'm a huge RayForce fan ever since it came to iOS, and am pretty excited to finally have RayStorm on my phone now as well. I really hope they release the third title, the prequel to the entire series RayCrisis, to iOS sometime down the road.
If you're a shooter fan and can hang with the retro visuals, both the newly-released RayStorm and the recently price-dropped RayForce are two great options to check out for your shooter collection.