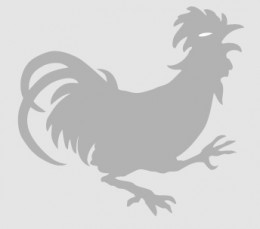 Rusty Moyher of Wild Rooster, creator of one of my very favorite cat-based games Box Cat ($1.99), stopped by to see us at WWDC and show off his upcoming new multiplayer arcade shooter Deep Space Duel as well as his recently released iPad party game Bloop.
Deep Space Duel is a top-down shooter with heavy inspiration from Asteroids, but with competitive multiplayer. There are several different types of arenas with a bunch of asteroids floating around in the center, and each player starts at one corner of the arena with the goal of blasting the other player and avoiding crashing into the asteroids. Destroying an asteroid will produce one of 6 different powerups, like a shield, a powerful laser, or a proximity mine.
The coolest thing about Deep Space Duel is that it uses the Joypad (Free) app, which turn your iOS devices into controllers for the game. You can have up to 4 players playing at once using Joypad, and it's a total blast all trying to kill each other at once, reminiscent of old Bomberman matches I'd have with my friends as a kid. There are virtual buttons if you don't use the Joypads to play, but this limits the multiplayer to 1 on 1. Check it out in action as Rusty takes on our own Brad "Let's Do This!" Nicholson:
There isn't currently any plans for an online mode mostly due to cost and resource limitations, but Deep Space Duel would be absolutely perfect for online play so I'll keep my fingers crossed. Deep Space Duel should be releasing in about a month or so, and should provide a really fun party game when you're together with your iOS gaming buds.
---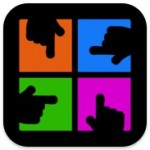 And speaking of party games, Wild Rooster has an especially fun iPad game that came out at the end of April called Bloop ($4.99) that's definitely worth a look if you like playing same device multiplayer games. It's similar to Fingle ($1.99) in that it encourages improper touching of each others hands, and the premise is so simple it's actually quite brilliant. Up to 4 players pick a color and tap away at squares on the screen that match their color.
As the game progresses, the squares become smaller and more numerous, until everyone is frantically trying to tap their squares and it becomes just a huge mess of battling hands. At the end, whoever tapped the most squares wins. That's all there is to it, but it's just so much fun it doesn't need anything else. The trailer demonstrates it quite well.
Definitely give Bloop a look if you've got an iPad and some friends handy, and keep your eyes out for Deep Space Duel to hit in the next month or so.