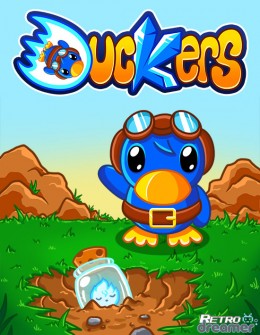 Today Retro Dreamer, developers of such titles as the awesome arcade shooter Velocispider ($2.99) and the adorable Sneezies ($1.99), have announced a new game is on the horizon. In a post over on the Retro Dreamer website, the company has divulged that this latest title will be called Duckers, and then they went on to explain… well, absolutely nothing actually.
Yes that's right, they're giving us the old tease treatment. But on the bright side there is the promo art attached to this very post which is both extremely cute as well as intriguing. What's in that jar? Did it crash land to Earth? Why does that duck have flight goggles on? Can ducks even fly?
In the end we're left with nothing but questions, however, Retro Dreamer states that Duckers is just about ready to go and should be hitting within a month's time, possibly even by the end of May if everything goes absolutely perfectly. Until then they'll be pushing out all sorts of new promotional stuff over the next few weeks for the impending Duckers launch, including a trailer that should hit sometime this week, so stick around to find out more about this mysterious title soon.