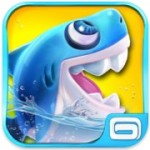 Shark Dash (Free) features all the trappings of a classic love story. At the tale's outset, we meet our protagonist, a toy shark enjoying a romantic swim around the tub with his gal. Suddenly rubber ducks, the most vicious of water fowl, come splashing onto the scene and restrain our hero, who flails about while the diabolical ducks spirit his fair maiden away. Rather than flexing his fins, the shark sets off on his quest to save his lady love by solving a series of physics puzzles.
Swapping hungry sharks for Angry Birds (Free) and googly-eyed ducks for slovenly hogs, Shark Dash oozes personality. Each level takes place in a tub filled with a mix of bath-time implements: Salts, soap bars, plastic rings, beach balls, and several unique props like explosive mines and inflatable blocks that burst at a touch.
Positioned around the tub are the scumbags that made off with your girl. Your goal is to pull back on your shark and line up your dotted trajectory like an expert billiards player, then release to send him careening into bath-time accessories like a pinball—blasting through speed tubes that fire you into the air, cleaving through chains that hold hanging platforms, knocking over structures to dump their feathery cargo into the water, swooping beneath the surface to gobble up stragglers. Once you've devoured all your prey, you move on to the next stage.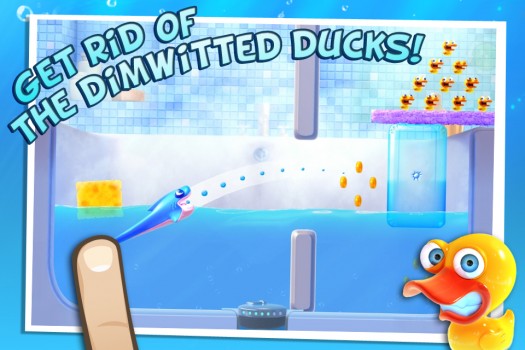 Besides dining on duck, each level poses two additional challenges: collect every coin, and try to meet the minimum number of moves needed to win. Hitting par or less on each level is optional, but presents the game's greatest thrill. As you progress, levels gradually introduce new elements that make up Rube Goldberg-like constructions. Dots lining the bathtub drain show how many moves you have to finish the level until the game pulls the plug and throws victory out with the bath water.
You can spend all your available moves throwing yourself at ducks, brute-forcing your way from one level to the next. Or you can join the Shark Dash elite who analyze each layout, painstakingly calculate trajectories, and slingshot their sharks in just the right way to kick off a Goldberg sequence that ends with every last duck into your belly—usually in two moves or less. Watching a well-laid plan come off without a hitch brought about immense satisfaction and prompted me to retry stages until I scored a perfect rank.
Unfortunately, the game's economy is its biggest flaw. Collecting the coins scattered around levels gives you the funds you need to skip tougher levels, buy elixirs to call mulligans on poorly executed moves, pick up new sharks, or break your bank and open up every level. The problem is, even netting every coin on every stage doesn't fill your wallet fast enough.
You can get by without retry elixirs and new sharks (the game's levels are divided across themed bathtubs, and you automatically receive control of a new shark whose abilities Gameloft designed specifically for his tub's challenges), but at some point, you won't have enough to skip a stage giving you trouble. That means either banging your shark's head against a level's porcelain walls until you figure out how to pass it, or admit defeat and buy IAP coin packs.
Don't let an unbalanced economy make you shy away from Shark Dash, though. Cracking a level's puzzle-like configuration is a real kick that comes wrapped in a fun theme, vibrant graphics, and, quite likely, the first and only time you'll ever root for a shark.