I think we can all agree that the biggest release this week was the TouchArcade app (Free), and if you're reading this story because the app made your phone buzz, isn't the future a wonderful place? Also, if you somehow haven't downloaded our app yet, get on that, it's amazing, and will only get better once it eventually goes universal.
Anyway, there are a bunch of games coming out tonight, and this week works like every other week on the App Store. Everything in this list should be available for download in the US App Store at 11:00 PM Eastern, or potentially much earlier if you're lucky enough to utilize an Asian or European flavor of the App Store.
Acme Planetary Defense, 99¢ / HD – Forum Thread – This looks like a game similar to Missile Defense, only with asteroids, upgradeable weapons out the wazoo, and a 360 degree perspective.
---
Battleship Free – Forum Thread – To celebrate the impending launch of the Battleship movie (I still can't believe such a thing exists) EA is releasing a free version of the game.
---
Casino by Zeziz, Free – Forum Thread – An effort from the United States Playing Card Company to take their physical playing empire to the virtual world with the requisite social spin.
---
ChickenBreak, 99¢ – Forum Thread – It looks like this is some sort of chicken-themed endless runner, and I'm really diggin' the video, even though it doesn't actually have any gameplay.
---
Exponential Invasion, $2.99 – Forum Thread – The subtitle of "The Game of Mathematic Warfare" says it all. I dig these clever math-centric puzzle games.
---
FastBall 3, $1.99 – Forum Thread – The FastBall series has millions of fans, and the third installment will surely be a hit. If you haven't played one yet, it's basically a platformer starring a red ball, with lots of obstacles.
---
Jake Escapes, $2.99 – Forum Thread – I hope this game is as fun as it looks, you climb buildings using a clever swipe control method. I'm intrigued.
---
LostWinds2: Winter of the Melodias, $3.99 – Forum Thread – Did you enjoy the original LostWinds ($3.99)? Well, here's the sequel, dive right in.
---
Monster Shooter: The Lost Levels, 99¢ – Forum Thread – Alright, so there are a million dual stick shooters on the App Store, we know. This one looks really cool though.
---
N.O.V.A. 3, $6.99 – Forum Thread – The third installment of the N.O.V.A. series. We'll have a full review up the second it hits the App Store tonight.
---
Penny Time, 99¢ – Forum Thread – This game is produced by an actual Australian skateboard company, and I like absolutely everything I see in the trailer. Everything.
---
Pinch Peeps, 99¢ – Forum Thread – An incredibly cute looking game of pinching bombs. The screenshots even promise it being easy to learn, but difficult to master!
---
Punch Hero, Free – Forum Thread – A free boxing game from Gamevil that looks a lot like Punch Out? Where do I sign up?
---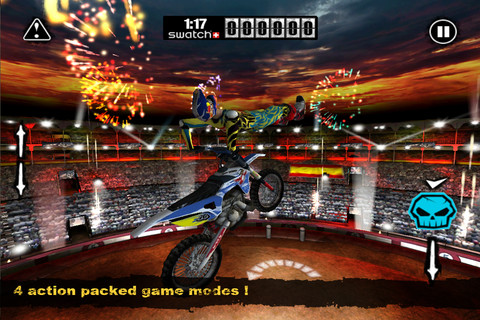 Red Bull X-Fighters 2012, 99¢ – Forum Thread – A freestyle motorcross game from Red Bull that, as you can see from the above screenshot, seems to filter tons of jumps and fireworks.
---
This Could Hurt, 99¢ – Forum Thread – A puzzle-centric platformer that is vaguely similar to Rinth Island, but more action-oriented, per people on our forums!