A couple of years ago, Brandon and Cody Pollet formed F5 Games as a clever way to sneak into Electronic Entertainment Expo and experience the gaming event firsthand. Both were college students with big ideas, and they ended up leaving it with even bigger ones. E3 gave their studio a soul. When the App Store exploded later, the duo discovered a direction.
In 2011, Brandon and Cody went back to the Los Angeles-based event that got them dreaming big in the first place to reveal Pocket Heroes. They describe it on this week's bonus episode of the TouchArcade Show as the game they've always wanted to make, and it's been a long time coming. Pocket Heroes hits either later this month or early June, almost a full year since the duo initially showed off their idea.
iTunes Link: The TouchArcade Show
Zune Marketplace: TouchArcade.com Podcasts
RSS Feed: The TouchArcade Show
Direct Link: TouchArcadeShow-Bonus-036.mp3, 17.4MB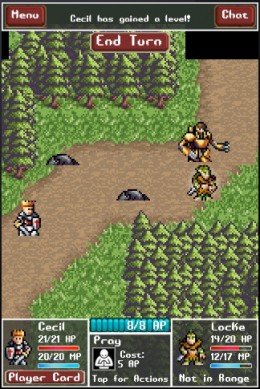 Pocket Heroes is a little like what would happen if Words With Friends [$2.99] and Dungeons & Dragons were slammed together repeatedly. In Pocket Heroes, you'll battle foes and explore dungeons alongside other users asynchronously and level up and manage the skills of your priestess, Dwarven mech, rogue, or paladin in the process. As you'll see, it's also rocking a gorgeous lo-fi art style, but with specific enhancements that make it feel new and relevant on phones.
Demoing the game for the first time at the event wasn't an intentionally poetic move. It also wasn't a coordinated reveal drawn up in an elaborate, year-long marketing plan. Brandon and Cody just wanted to see if people liked their idea before they committed to it. They needed a push to believe in what they had. Their idea was big, bold, and it seems like they knew it was going to push them creatively.
"We were pretty hesitant to show it off," Brandon tells TouchArcade. "We made Independence Night [Free] and then we made IncrediBlox [$.99]. They weren't huge successes on the App Store."
"We were kind of at the point — do we have what it takes to figure this thing out, do we know how to make something that people are going to like? So, we decided to go to E3 and show it off. This is the game we've always thought we should be making. Let's show it off and see if people are interested."
"We did, and then we got this huge response," Brandon says. "I don't regret showing it off as early as we did. I don't think it would have ever been made if we hadn't gotten that feedback from everybody."
It's been a heck of a ride for Pocket Heroes fans, in part because Brandon and Cody didn't realize what they had, but also because what they had planned was too ambitious for its own good. Brandon explains.
"When we first started mapping out Pocket Heroes, it was called The Black Fortress. We had a very specific idea of how it was going to play out." Brandon and Cody soon discovered that having underpowered heroes tackling tremendous evil in what would have been an end-game dungeon wasn't, in fact, awesome. The game needed progression, and it needed to be more consumable.
So, the game has been split into simpler, more digestible parts. What you'll see in a couple of weeks is the just first of four chapters. The rest will be added over the year. The last chapter will be, roughly, the game Brandon and Cody originally designed a year ago. They'll see their original vision through, though it might be close to next E3 before we see it all. How fitting, right?
On this week's bonus episode of The TouchArcade Show, Brandon and Cody talk freely about all of this and further elaborate on the delay between sneak peek and reveal of Pocket Heroes. They also dive into what sets their apart from the rest of the RPG herd. Other topics include the games that inspired the development of Pocket Heroes and what F5 Games' name actually means. Feel free to grab the audio version above or subscribe to us on iTunes.