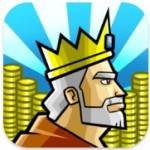 One of my personal favorite games of 2011 was the quirky slot machine-meets-role-playing game King Cashing (Free). The slot machine battle system was a really different kind of idea that turned out to work great in practice, and the character leveling and upgradeable items drew you in to continue forging on through the campaign. We totally enjoyed King Cashing in our review, and about a month later a big update hit that added new weapons and a new kind of battle, making the whole game just that much better.
Yesterday the second major update hit for King Cashing, this one even bigger than the first. It adds an entire new Survival campaign where you face off against a string of enemies while utilizing the same pool of spin cherries. You can earn a small portion of cherries back by each time you defeat one of these enemies, but you can't go back and replay levels to grind so efficient play is crucial if you're going to last until the end of the campaign. It's quite challenging and a great twist on the normal gameplay found in the original campaign mode.
Speaking of the original campaign this update also brings 3 new battles against "protected" bosses who are covered with shields which must be broken away before inflicting damage on the enemy itself. There's 3 new weapons too, one for each class member, as well as some new bonus types and a myriad of other tweaks and fixes. The new Survival mode adds a great new way to experience King Cashing, and the other new goodies are all welcome additions as well. If you haven't checked out King Cashing yet there's a lite version to try and the full version is currently on sale for 99¢ to celebrate this new update.