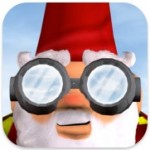 Earlier this month, Foursaken Media dropped their latest iOS title Sky Gnomes (Free) into the App Store and we thought it was pretty great in our review. You play as a gnome hurtling straight down through the sky riding a homemade rocket collecting snowflakes, coins and items in an effort to reach a landing zone as quickly as possible.
While that's an awesome enough premise on its own, what pushed Sky Gnomes to the next level was its fantastic daily tournaments that matched you against the ghost runs of like-skilled players in competition for the best race time. Throw in a ton of upgradeable items to trick out your rocket and Sky Gnomes came together to be one of my favorite recent releases.
Today, Foursaken is sweetening the pot with the first of many planned content updates for Sky Gnomes. The big addition in this update is two brand new characters to play as: Girly the female racer and Skinny the uh, skinny racer. Each come with their own set of unique stats for their rocket, offering a change of pace from the original racer Gnomey. These new racers don't come cheap though, as each one will set you back 10,000 coins.
Speaking of coins, this update also lowers the costs of all first tier upgrades and trinkets for your rocket, making it easier and quicker for new players to start customizing their machine. There are also a myriad of tweaks and bug fixes, as well as an empty menu screen that serves as a teaser for another major addition coming to Sky Gnomes: 1 vs 1 battles. More new characters are also in the works for future updates.
If you haven't checked out Sky Gnomes yet, now might be the time as today's update adds even more cool features to an already great package, with more new stuff already on the horizon.