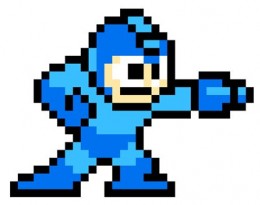 I think we were all expecting Marvel Vs. Capcom 2 ($4.99) to be tonight's big release, but since it was released yesterday, this is what we're left with! Not that this is a bad haul by any means, but, you can't play as Mega Man in any of these games.
Like previous weeks, all of these titles should be available at 11:00 PM Eastern, or potentially much earlier if you're using the App Store in a region to the east of us. So, on with the show.
Aby Escape, Free – Forum Thread – This seems to be a behind the back endless runner, sort of like Temple Run. If nothing else, there's lots of variety between football fields, highways, forests, and more to run through.
---
Ballistic SE, $1.99 – Forum Thread – A really slick looking dual stick shooter from the guys behind Super Crossfire and Fireball SE, two games I really liked.
---
Bullistic Unleashed, 99¢ – Forum Thread – A physics-centric almost pinball game of sorts that centralizes around crude humor. For instance, you fling the bulls by stretching out their… Well, you'll see.
---
Cannon Cat, Free – Forum Thread – A cannon-jumping game starring an adorable cat. Something tells me this is at the top of Jared's wish list tonight.
---
The Dictator: Wadiyan Games, Free – Forum Thread – Forum Thread – Excited for The Dictator? Here's an adver-game with south South Park-like graphics filled with a bunch of different mini-games. For free, it seems worth a shot.
---
Escape from Age of Monsters, 99¢ – Forum Thread – Before you roll your eyes and say, "Another endless runner?" check out the art in this game. It's top-notch.
---
Frenzy Pop, 99¢ / HD – Forum Thread – A platformer with a marvelously ridiculous premise that feels like it's straight out of that weird era of 16-bit games that produced Bubsy and others.
---
Inotia 4: Assassin of Berkel, $2.99 – Forum Thread – We've heard that the latest installment in the Inotia series is supposed to be hitting tonight, but it hasn't appeared in any international App Store as far as I can tell. Com2uS might be doing one of those tricky "release everywhere at once" things. …Aaaaand it's out now.
---
Juice 'Em Up! 2, Free – Forum Thread – I've never been able to get into these time management games, but holy cow is there a militant group of fans who can't get enough of them. If you're in that crew, this game is for you.
---
Polymer, 99¢ – Forum Thread – Nissa was all over this puzzle game with a hands-on preview not too long ago. Give it a look.
---
Ski Safari, 99¢ – Forum Thread – A really cool looking skiing game where you've got to try your hardest (with the help of a variety of power-ups) to avoid an avalanche.
---
Spellsword, 99¢ – Forum Thread – A retro-styled side-scrolling action RPG that has iTunes screenshots with Game of Thrones memes in them? Where's that image of Fry with the money? It's appropriate here.