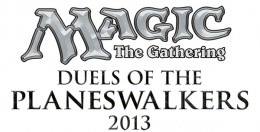 Go somewhere quiet and you might just hear us screaming "yes" at our monitors. Wizards of the Coast has confirmed that we won't be waiting long for Duels of the Planeswalkers 2013 iPad. It's coming this "summer," and launching alongside the 2013 Core Set of playing cards, which will be featured prominently in the game, too. Ten fresh decks are expected at launch, and more presumably will come down the pipe as downloadable content.
We still don't know a ton about this version of the game, but a dude at Wizards of the Coast did recently blast out a statement name-dropping one of our platforms of choice, and seemed tickled by the prospect of opening up Magic to a hungry and new base:
"We're excited to make Magic: The Gathering even more accessible to our growing player base by adding iPad iOS to the suite of platforms that Duels of the Planeswalkers 2013 will be available on this summer," director of Digital Games for Magic: The Gathering Worth Wollpert said in a statement.

"Given that the original Duels and Duels 2012 have been downloaded well over 2 million times combined since its launch in June 2009, our customers are clearly enjoying what we've done with the game to this point, and we're thrilled to be able to offer both new and existing Magic fans exciting content and gameplay options on a world-class tablet platform that many of our customers have been asking for."
If you aren't familiar with Duels, it's a little like Magic for Babies. It gives you pre-built decks, holds your hand if you aren't familiar with the rules, and lets you play against AI until you're good enough to take your game online. The previous two iterations have been fantastic, and we can't wait to see this new one on iPad.